Project Description
MARTINO NICOLETTI, CHÖD: THE SACRIFICE OF THE SELF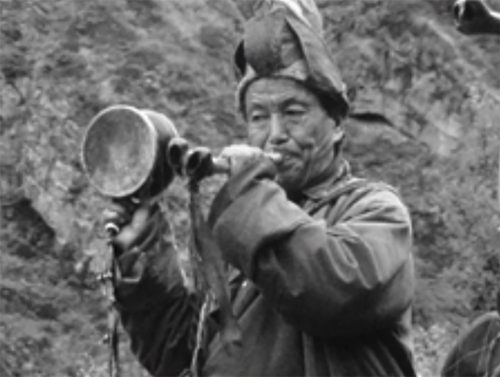 In the heart of the Himalayas a few rare practitioners – followers of Bön, the ancient pre-Buddhist religion of Tibet – undertake a long ritual pilgrimage through the "power places" of the Dolpo region: sacred sites inhabited by mountain deities and water genii; wild places infested by ferocious demons and dangerous ghosts.
In a universe perceived as a delicate interaction between human beings and the invisible forces that inhabit the cosmos, the main purpose of the pilgrimage is to placate local spirits, thereby repairing any cracks that might have appeared in the relationship between these two worlds. The journey is also often undertaken as a means of warding off dangerous epidemics or as a specific form of exorcism.
As the pilgrimage unfolds, the cho-pas, having attracted the spirits' attention with wildly provocative acts, evoke their presence by playing magical musical instruments: trumpets made from human femurs (kangling) and hourglass-shaped drums (damaru) traditionally made from human skulls.
The central focus of the pilgrimage is the performance of a meditation ritual of self-sacrifice: the "chöd" (lit. "cutting through"). The officiants, after having invited a whole host of invisible beings of varying status to gather, visualize their own body being totally dismembered by a female divinity of wisdom (dakini). The remains, ritually transformed into pure substances and a "nectar of immortality" through the power of meditation, are wholly offered to the invited invisible guests during a ceremonial banquet.
Beyond its significance as a sacrificial offering to local spirits, the chöd reveals profound philosophical meanings connected to the notion of "universal compassion" (bodhicitta). In this sense, the sacrifice represents a rare opportunity to set incorporeal sentient beings on the path towards supreme enlightenment and total liberation from the never ending cycle of births and deaths.
In an even deeper sense, the ceremony, by the mystical offering of oneself to invisible guests, enables practitioners to radically sever their attachment to their physical body and to overcome their identification with their own illusory ego: the last and most powerful of all illusions.
Chöd, The sacrifice of the Self (2008) Directed by Martino Nicoletti. UK. Stenopeica. 6 mins.