Project Description
MARTINO NICOLETTI, THE SNOWY SNAP: THE STORY OF CHATURMAN RAI, HIMALAYAN FOLK-PHOTOGRAPHER AND FILM-MAKER, MILAN, MIMESIS INTERNATIONAL, 2015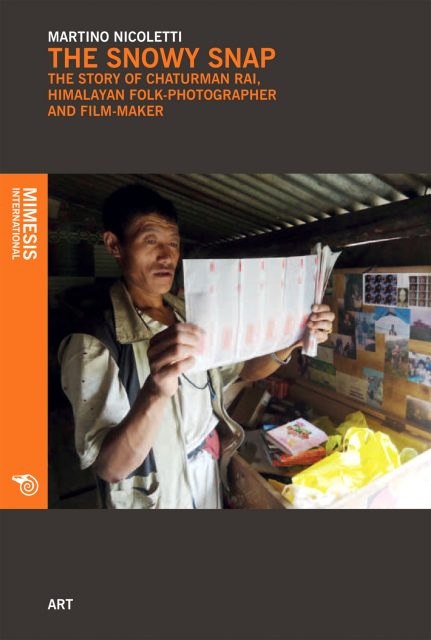 In a remote village of eastern Nepal, lacking electricity and any other facilities, Chaturman, a farmer belonging to the Kulung Rai ethnic group, has for many years cultivated an original passion: photography.
Chaturman fell in love with this art in his youth, as a result of a fortuitous encounter with travelling photographers, enigmatic characters who, until recently, used to wander through the remotest villages of Nepal working as "nomadic" professional portraitists.
Despite the acrobatic split needed between his work as a farmer, herdsman, porter and father of a family, Chaturman, wholly self-trained, developed his passion tenaciously, also thanks to his simple and rudimentary equipment: an old-fashioned plastic "Made-in-China" camera and a few black-and-white films purchased and processed at a shop three days' walk from his village.
This work – created by the author over a timespan of about twenty years, thanks to a close personal friendship with Chaturman –, enriched by a wide selection of images, retraces the main steps in his multifaceted and highly experimental activity from the very beginning up to his later work as a documentary filmmaker.
Through the life and artistic work of Chaturman, this book provides a glimpse of one of the most original and moving true stories from this distant and seductive corner of Asia.
This volume is a revised and augmented version of the work: Martino Nicoletti, Chaturman Rai: fotografo contadino dell'Himalaya, Roma, Exòrma, 2010.