Project Description
MARTINO NICOLETTI AND CLAUDIE CHLASTA, LES CONSTELLATION MÉDIUMNIQUES: L'ÂME, LES ANCÊTRES ET L'AU-DELÀ DANS LA PRATIQUES DES CONSTELLATIONS (SPIRITUALIST CONSTELLATIONS: THE SOUL, THE ANCESTORS AND THE BEYOND IN THE PRACTICE OF CONSTELLATIONS), PARIS, LE LOUP DES STEPPES, 2016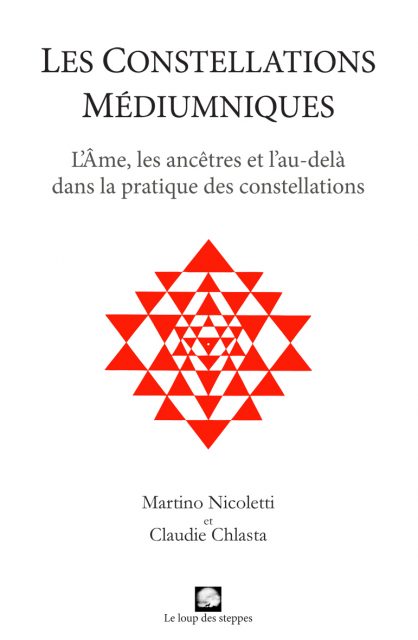 With clear and simple language, rich in references to the spirituality and shamanism of Asia, the work offers a completely new and unknown perspective on the universe of constellations, showing how "channelling" and mediumship can be effectively applied to the comprehension and resolution of many trans-generational or karmic personal problems.
Drawing inspiration from the concrete experience of Claudie Chlasta, a medium since her childhood and creator of a unique method of constellation, this book illustrates how the dead can play a real role as "participants" in constellation séances, actively contributing to the identification and solution of significant problematic nodes connected with our present, as well as to finalising in a + positive manner, what, referred to our past, seemed to be ended or unresolved forever.
Such dialogue and co-operation between the worlds – triggered by the intermediation of a facilitator-medium –allows true "healing": a recovery that can simultaneously include the present as the past, our personal experience as well as our ancestral and trans-generational collective dimension.