Project Description
MARTINO NICOLETTI, I MUST NOT LOOK YOU IN THE EYES: THE ZOO OF THE GIRAFFE WOMEN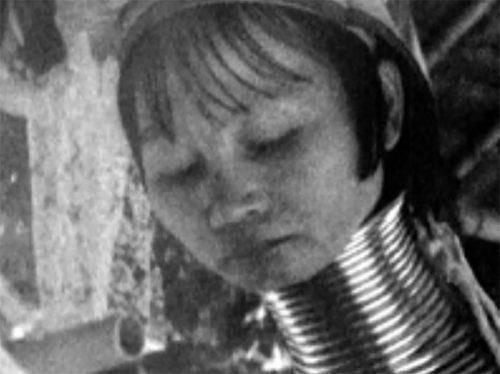 This super-8 short, shot in Thailand, is devoted to the ethnic tourism among the Kayan minority. Known worldwide for the traditional female custom of wearing a long coiled brass necklace aimed at causing a considerable extension to the neck, the Kayan are a Tibeto-Burman ethnic group originally from Burma.
Due to the prolonged civil war in their own homeland, a large number of Kayan recently fled from Burma to refuge in neighbouring Thailand. Here, over the past years, in response to the "incisive" tourism policy promoted by the Thai government in the northern areas of the country, some families, abandoning the refugee camps where they were hosted, have been resettled in several new villages open to tourists, on payment of a modest entrance fee. Here the Kayan, their culture and their daily life, have been transformed into an authentic tourist attraction capable of drawing about 10,000 visitors a year.
Founded on a strictly "visual media primitivist" approach, the short presents a sharp gaze on a less-known form of human exploitation.
The short, shot with a Super-8 camera, was published as an integration of the book: Martino Nicoletti, The Zoo of the Giraffe Women: A Journey among the Kayan of Northern Thailand, Kathmandu, Vajra Publications, 2013. The Italian edition of the short contains an extremely rare artistic interpretation by the singer Giovanni Lindo Ferretti.
I Must Not Look You in the Eyes: The Zoo of the Giraffe Women (2011); Directed by Martino Nicoletti. UK. Stenopeica, 6 mins