Project Description
STENOPEICA, FRANCO BATTIATO, TERESA DE SIO, GIOVANNI LINDO FERRETTI, KATHMANDU: DIARIO DAL KALI YUGA (KATHMANDU: DIARY FROM KALI YUGA) (BOOK + LINK TO SOUND TRACKS) (edited by Martino Nicoletti), PARIS, LE LOUP DES STEPPES, 2016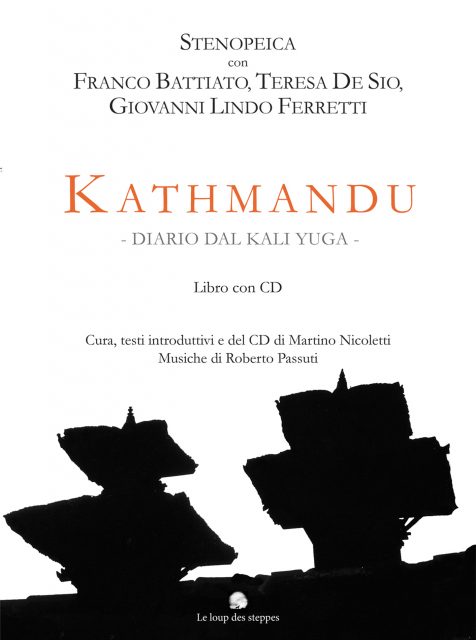 An initiatory itinerary of sounds and words leads to the discovery of Kathmandu, the mythical sacred city of divine origin set among the shining mountains of the Himalayas. The refined sounds of the STENOPEICA musical group combine with the voice and precious artistic contributions of FRANCO BATTIATO, TERESA DE SIO and GIOVANNI LINDO FERRETTI.
As an authentic diary from the Kali Yuga – the final dark age that, according to ancient Indian mythology, concludes a cosmic cycle – this work (consisting of texts, photographs and the link to 21 music tracks) represents a unique contribution to our knowledge of the abysses of this Himalayan city.
Kathmandu. The living count the dead between fingers and thumb. The dead count the living from behind the windows. Along the road, high up, electricity races in thin filaments.