Project Description
MARTINO NICOLETTI, RIDDUM: THE SACRED WORD OF SANCHA PRASAD RAI, SHAMAN OF THE HIMALAYAS, ROMA, CASTELVECCHI, 2005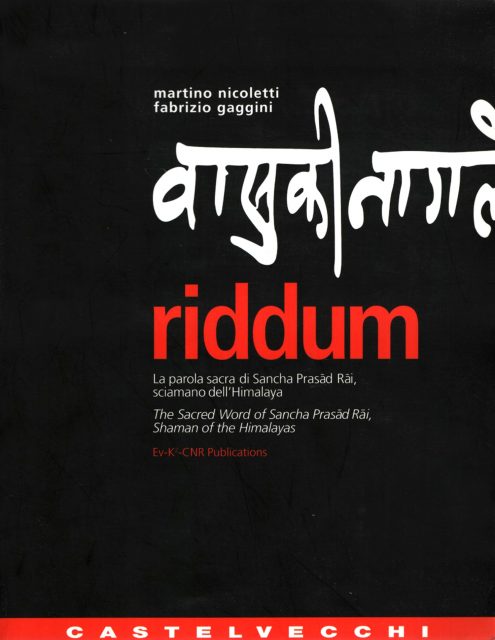 A work devoted to the sacred oral tradition of the Kulunge Rai of Nepal, transcribed by Martino Nicoletti from the living voice of one of the most renowned shamans of this ethnic group.
The book, in English and Italian, is enriched by a wide selection of photos.
One day, the aged shaman Sancha Prasad Rai told me the story of his people. The story that even today the elders of the Kulunge Rai tribe hand down orally from generation to generation, under the name of 'riddum'.
This story starts a long, long time ago. It begins before all the objects that surround us were manifest in their infinite variety, and even before human beings appeared on the face of the Earth.
For the Kulunge Rai, the riddum is the sacred tale describing the origin of the cosmos, of nature and the living beings that populate it. Expounded using the formula of a specific ritual language, the riddum is narrated whenever an important religious ritual is celebrated. According to the Kulunge Rai, the ritual language of the riddum is the primordial language, the one that the ethnic group's forefathers once used daily for communication. With every passing generation, it began to be forgotten. Many other different idioms arose and thus the primordial tongue of the riddum began its slow, but inexorable, eclipse. Among human beings, only a few continued to hand it down, in order to keep alive a dialogue with the ancestors who lived in mythical times, and with the gods of their own religious tradition.
The book, in English and Italian, is enriched by a wide selection of photos.
Original edition of the work: Martino Nicoletti, Riddum, Kathmandu, Vajra Publications, 2004