Project Description
MARTINO NICOLETTI, THE PATH OF LIGHT: RITUAL MUSIC OF THE TIBETAN BÖN, BOLOGNA, BORGATTI EDIZIONI MUSICALI, 2008 (BOOK+CD)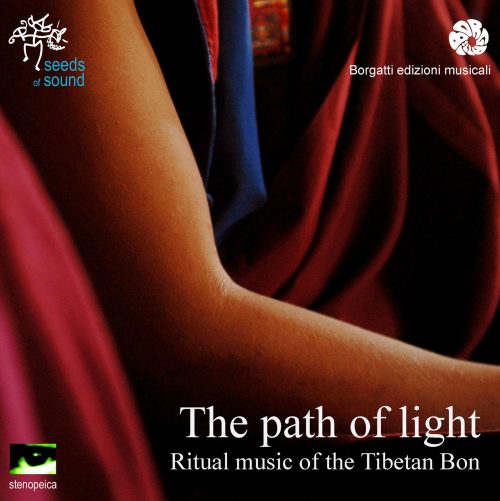 The Path of Light: Ritual Music of the Tibetan Bon – the first CD of the series Seeds of Sound in the Autumn of Power directed by Martino Nicoletti and distributed by the label Borgatti Edizioni Musicali – represents a fascinating journey through the ritual music of one of Asia's most ancient and least known spiritual traditions: Bon, the autochthonous religion of Tibet.
Ancient religious texts trace Bon's origins back to the figure and doctrines of the Buddha Tonpa Shenrab, who appeared in Olmo Lungring, the invisible realm of light identified with the regions of Central Asia, perceptible and accessible only to enlightened beings through the da' lam, the mystic "arrow way".
With its wealth of introductory texts and images (more than one hundred pages of photographs and texts giving an introduction to the history, the myths, the rituals, the traditional musical instruments of the bonpo liturgy) this CD – produced thanks the support of the Italian Ministry of Foreign Affairs and of CNR – provides a rare selection of chants, music and mantras, most of which are connected with the esoteric path of Dzogchen, or Great Perfection.
The authentic gem of this CD – recorded live at the Nepalese monastery of Triten Norbutse – is an extremely rare collective performance of the chöd, a meditative ritual of self-sacrifice, as found throughout bonpo tradition.
Part of the proceeds from the sale of this CD will be assigned directly to the bonpo monastery of Triten Norbutse as a contribution to the cultural safeguard projects promoted by the monastery itself.
Martino Nicoletti, The Path of Light: Ritual Music of the Tibetan Bön, Bologna, Borgatti Edizioni Musicali, 2008